At the Les Iscles Lake Campground, tents, caravans and motor homes are sovereign.
Campers stay in a natural wooded area with many varieties of vegetation and trees, all nestled between the lake and the river.
Campers have a choice of 160 camp sites spread out over the campground. The camp sites are spacious, sunny or shaded and easily accessible.
They are separated by hedges or trees and bushes, or part of an open space.
19 camp sites are located on the shore of the Les Iscles Lake (lakeside camp sites).
On each site, an electrical connection is available as an option for all campers. Important information: most of the camp sites are equipped with conventional plugs, not the standard European outdoor connections.
Remember to bring the appropriate adapter, especially if you come with a motor home.
Useful Information:
For greater camper connivence, the campground offers refrigerators for hire. Think of it when you make your reservation. Supply is limited.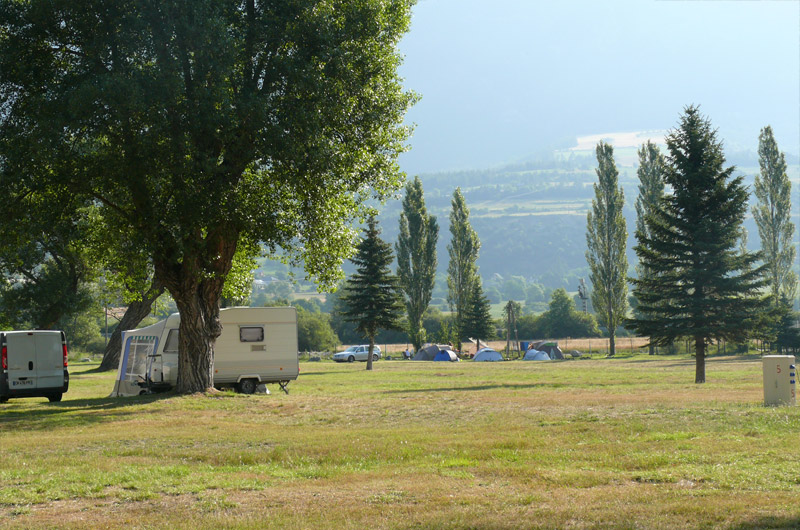 The "Vieilles Granges" mobile homes are located near the Durance, in a quiet, wooded area.
The mobile homes are equipped with the following:
A living room / kitchen equipped with a refrigerator, a microwave oven, an electric hob, a complete set of cookware, an electric coffee maker and a kettle as well as tableware and dishes.
A bathroom (with a shower cubicle and sink)
Separate toilets
A bedroom with one double bed (140 x 190 cm), a wardrobe and cupboard ( additional a travel cot is available as an option)
A bedroom with two single beds (80 x 190 cm) with a wardrobe and cupboard
A sofa bed in the living room that sleeps 2 people
A covered wooden terrace, with a table and chairs
Our accommodations are equipped with blankets and pillows, however sheets and towels are not provided.
Sheets and towels are available to rent.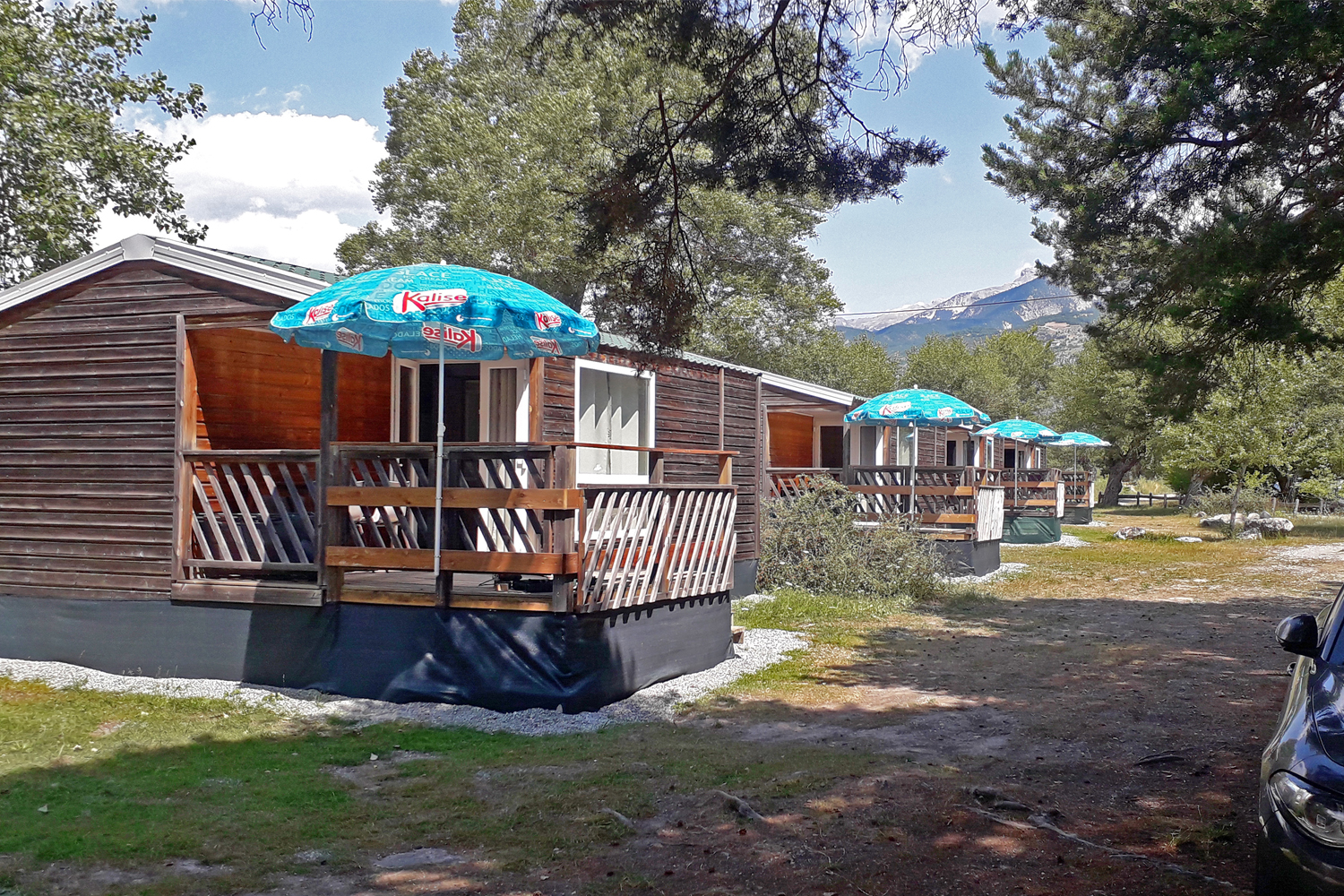 You'll find at the campsite
The following are included with your camp site at the Les Iscles Lake Campground…
4 sanitary blocks with showers, toilets and washbasins, cleaned twice every day. Hot showers at no extra charge.
2 sanitary blocks are equipped for handicapped access including the shower, WC and washbasin.
2 sanitary blocks are equipped with a nursery area.
A play ground is available for children, parental supervision is required.
1 ping-pong table
1 pétanque terrain, located adjacent to the campground
1 Little-Free library
1 board game space
One sanitary block is equipped with a commercial quality washing machine. Tokens and washing powder are on sale at the reception.
We accept Chèques Vacances.
There is free Wi-Fi adjacent to reception in the bar and restaurant.
The El Lago restaurant is open to the public for snacks and meals, or to share a drink with family and friends. The restaurant offers a menu with simple and tasty dishes made with local products from starters to desserts. There is plenty of seating in the El Lago, located on the shore of the Les Iscles Lake. Take away order are also available. There is free WiFi in the bar/restaurant area.
You'll find many shops and services nearby.
There is grocery store and bakery offering fresh pastries just 30 m from the campground entrance.
In the village of Eygliers, you will find plenty of shops:
A traditional French Bar / Tobacconist with a cash machine, a hairdresser, a veterinarian, 2 bakeries, a car garage, a petrol station and 2 restaurants.
There are two supermarkets just 3 km away. One is an organic food store and the other a typical supermarket.
In the small town of Guillestre (6 km) you will find another supermarket, a petrol station, bookstores, a press shop, several bakeries, butchers, and banks with cash machines, 2 pharmacies, a doctor's office and several restaurants.
There is a bike rental / repair shop 2 km away.
An environmentally responsible campground :
Our everyday commitments include: water and lighting management – sorting recyclables – composting of appropriate restaurant food waste.
We work closely with local producers prioritizing Queyras dairy cheeses, local artisan bakeries, ice cream made in the Alps as well as jams and herbal tea from producers in the Queyras….
Flat Rate Lakeside Campsites: 1 Campsite + 2 Adults + 1 Vehicle + 1 Tent or Caravan
Flat Rate All other Campsites: 1 Campsite + 2 Adults + 1 Vehicle + 1 Tent or Caravan
Flat Rate All other Campsites: 1 Campsite + 1 Adult + 1 Vehicle + 1 Tent or Caravan
1 Additional Adult (+ 12 years old)
1 Additional Child (- 12 years old)
Tourist Tax Adult (+18 years old)
Tourist Tax Child ( -18 years old)
Mobile Home Rental (High Season: 9 July – 28 August)
Flat Rate Lakeside Campsites: 1 Campsite + 2 Adults + 1 Vehicle + 1 Tent or Caravan
Flat Rate All other Campsites: 1 Campsite + 2 Adults + 1 Vehicle + 1 Tent or Caravan
Flat Rate All other Campsites: 1 Campsite + 1 Adult + 1 Vehicle + 1 Tent or Caravan
1 Additional Adult (+ 12 years old)
1 Additional Child (- 12 years old)
Tourist Tax Adult (+18 years old)
Tourist Tax Child ( -18 years old)
Mobile Home Rental (High Season: 9 July – 28 August)